TR1BE Announcements
6 days ago
seniors:

FINANCIAL AID NIGHT: Central will be hosting a financial aid night on September 27, 2017 in the West Pod of CHS from 6-7:30pm. UW, LCCC, and Hathaway representatives will be presenting information related to the financial aspects of college, i.e. scholarships, deadlines, FASFA, etc. Seniors and parents of seniors are encouraged to attend.
COLLEGE FAIR: The Wyoming Admissions Officers will be hosting a college fair at East HS on October 4th from 9:30-11:00am. Central juniors and seniors may attend and will be transported to East HS from Central. Students interested need to see Mr. Norman in the Career Center to sign up.

juniors:

PSAT: Central will be administering the PSAT for juniors interested in taking the test on October 11th. The test is free of charge this year. Completing the PSAT is the first step for students interested in qualifying for the National Merit Scholarship Program. See Mr. Norman in the Career Center to sign up for the test.
PICTURE MAKE UP DAY IS COMING
September 27, 2017

Please include the ID #CG217723Y0

A message from Central Principal Mr. Fred George
7 months ago
Dear Parents/Guardians and Students
Thank you all for allowing me the opportunity to serve you. I am proud to be a member of our Central High community.
I take great pride in our rich history and academic achievement. At Central High School we offer a full compliment of athletic programs, extra-curricular activities, and over 35 clubs. Students are encouraged to contribute to their school and local community; those student volunteers earning the highest service honor at Central High School will volunteer over 400 hours!
Students are encouraged to attend Academic Support Time (AST) both before and after school. Additionally, students can work with a certified teacher from 3:15-4:15 PM, Monday thru Thursday, in our Extended Day program. Certified teachers, representing over five core content areas, are ready to assist with homework, general questions, or test preparation.
Our staff at Central High School would like to invite your son/daughter to participate in our ACT preparatory opportunities being offered this school year. Your child's performance on the ACT is very important for a number of reasons. These scores determine whether a student in college is eligible to take a class for credit, or if he/she must take a remedial course instead for no credit. Additionally, ACT scores are used as one determinant in Hathaway Scholarship eligibility. The University of Wyoming's entrance standard is a composite ACT score of 21; most institutions of higher learning have similar requirements.

Please contact me at any time to visit about questions you may have regarding your school. I value your input and your role as a student or parent/guardian. It is clearly a shared mission to guarantee a quality education for our students.

Sincerely,


Fred W. George
CHS Principal
https://twitter.com/centralhighwy

Administrative Connections
4 months ago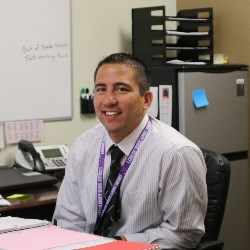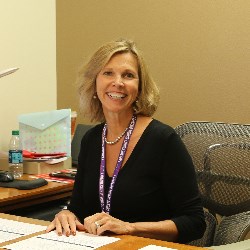 My name is Nicholas Lamp, Assistant Principal in the Courage Office.
I oversee students whose last name starts with A – G. This is my 12th year as an educator. Before becoming an assistant principal here at Central High School, I taught junior high and high school mathematics, coached junior high and high school wrestling, and coached junior high track. This is my first year at Central and I couldn't be more excited to be a new member of the Indian community.
WE ARE ONE TRIBE!
Mrs. Colleen O. West is the Central High School Associate Principal.
Mrs. West oversees the PRIDE Office students whose last names begin with the letters H-N.
She was a teacher at Central prior to becoming an administrator at the school in 2003. Mrs. West and the PRIDE Office staff assist each student by providing individualized academic planning and support. Students are encouraged to explore their course of study, dual enrollment opportunities, AP courses, AVID, ACT prep, post high school career planning and college exploration.
Hello!
My name is Kristen Siegel.
I am a Central Graduate and former Spanish teacher. I have been an Assistant Principal at Central for 6 years. My first year I was the freshmen principal. For the last 5 years I have been the Assistant Principal in the Spirit Office. I work with students and their families whose last names are O-Z
I also oversee the Special Education Department.
I enjoy spending time with my family, being outside and reading.
Courage

Pride

Spirit

Career Counselor

Counselor Updates

Programs
School Store
5 months ago
CENTRAL STATION
School Store
Marketing Education & DECA
The school store is a non-profit, classroom based enterprise which is part of the Marketing Education Program here at Cheyenne Central High School. Daily business opperations and transactions occur, while the purpose of the program is to allow students to experience real life management and retail situations.
Included, are pictures and descriptions of the variety of merchandise we offer at the school store. Products range from t-shirts to sweatshirts and accessories. Products are popular with students, parents, fans and staff members who are dedicated to showing their school spirit!
The school store is also a place to get various types of snacks and drinks. A selection of jerky, nuts, bagels, chips, water, and assorted coca-cola products are available for a reasonable price.
The school store is located west of the commons at the intersection of the language and P.E. halls. It is open 7:30-3:30 daily. In order to purchase the clothing items shown above, please contact Lori Meredith or stop by and take a look!
Take a look at what the store has in stock by clicking the read more below
Extended Day & Morning Star Academy